Refinery octane supply tightens with Tier 3 gasoline
Polls taken at two recent web conferences show tightness in North American refinery octane supply.
On July 29, 2020, in a web conference sponsored by RefComm, with 77 people present, 9 people responded as follows: 44% said their refinery is tight on octane, 33% said their refinery is not tight, and 23% don't know.
In the second conference, a session at the American Fuel and Petrochemical Association (AFPM) Summit, August 25, with 200 people present, 20 people responded as follows: 45% said their refinery is tight on octane, 25% said not tight, and 30% don't know.
These polls agree with our findings from continuing work with refining clients who find octane loss with Tier 3 is increasingly handcuffing FCC process trains.
Retail market prices for octane continue to increase as they have for several years, further indicating a tightening octane supply/demand balance: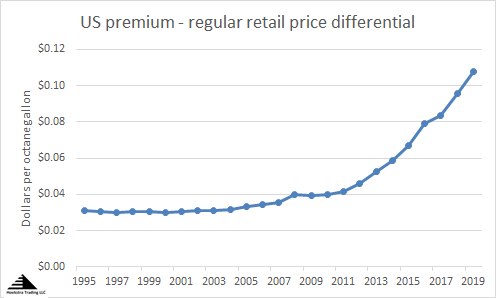 For several years, popular opinion said there is plenty of surplus reforming capacity to make up for octane lost with deeper desulfurization for Tier 3 gasoline, and that US refineries are ready to meet the Tier 3 10 ppm sulfur specification without material impact to their profitability.
We disagree, and presented evidence at both of these conferences on four metrics of readiness:
The industry has underinvested for Tier 3
The pace of compliance is way behind schedule
Octane loss for Tier 3 is 5 times higher than expected
The bank of Tier 3 sulfur credits is too small to meet likely demand
All the data, analysis, and models from our 3-year Tier 3 research project are in our multi-client annual reports which are available to anyone at a small fraction of the cost of the work.  If you believe Tier 3 is important to your company, then your company should get our reports!  Please contact George Hoekstra, george.hoekstra@hoekstratrading.com +1 630 330-8159, and request an offer letter and Table of Contents.