Will you buy refining catalyst in 2022?
By helping refiners take a fresh look at catalyst selection and make more informed decisions, we've helped them improve profit by $1 to $5 million annually per unit … and reduce procurement cost by typically 30%.
Here are just a few examples*:
Refiner
Incumbent
out
Challenger
in
Issue
Performance
benefit
Procurement
savings
CHS Inc.
Criterion
Albemarle
Short cycle
Cycle increased to 2 years from 1/2 year.
$2,000,000
CHS Inc.
Criterion
Topsoe
Report 3 showed profit opportunity
3-tier improvement
$1,000,000
PBF Energy
Albemarle
Topsoe
Report 3 showed profit opportunity
2-tier improvement
$200,000
PBF Energy
Albemarle
Topsoe
Short cycle
2-tier improvement
$330,000
Suncor Energy
Criterion
Topsoe
Report 3 showed profit opportunity
1- tier improvement
$600,000
Hellenic Refining
Albemarle
ART
Short cycle
1-tier improvement
$500,000
*Site contacts available on request
We've devoted decades to testing and researching catalyst performance and studying how catalysts perform in real-world environments. Hoekstra Trading's client group tested 44 catalysts in a $1.8 million 6-year program using the world's best independent pilot plant platform. That data and our catalyst market research revealed insights every catalyst buyer should know, including relative technical performance, competitive pricing, supplier costs, and supplier profitability.
Here is a tiered ranking of catalysts tested in our first year: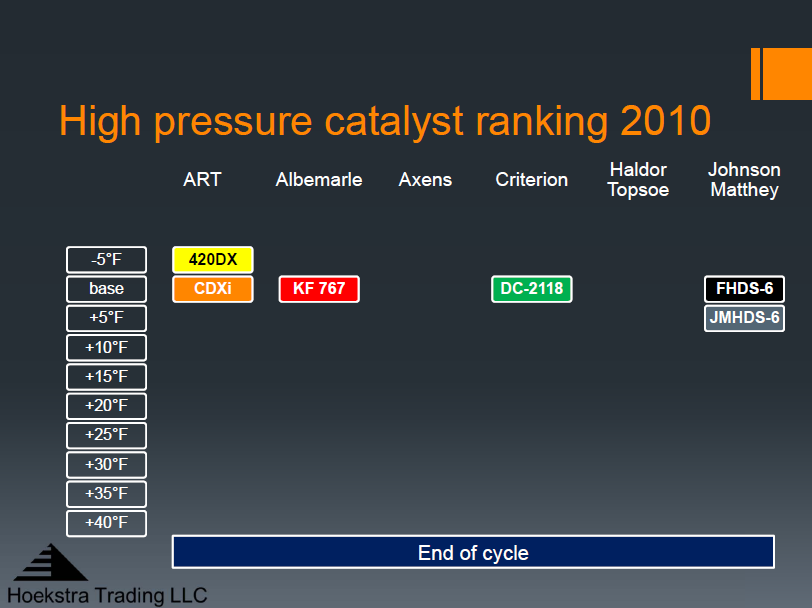 Six catalysts finished in a tight pack: Four came in 2nd in a dead heat one length behind ART's 420DX. One of the 2nd place finishers was a new Johnson Matthey catalyst. And a new concept catalyst from Johnson Matthey finished a close 3rd.
This tight race was surprising because the market's perception of these six catalysts covered the full range from unknown to the market leader.
But our pilot plants don't measure perceptions or market share. They measure performance, reliably, and in a way that is applicable to your reload decisions.
After this first round of tests, we continued testing 8 more catalysts per year for four more years to expand and fill out our tiered ranking tables with catalysts you've probably used, some you're using today, and others from all major suppliers. Then we spent a year testing competitive FCC gasoline desulfurization catalysts. And we will continue testing hydroprocessing catalysts whenever there is customer demand.
Hoekstra Research Report 3
Which catalysts are you considering for upcoming reloads? Only we have the hard data and knowledge base to help you do a good apples-to-apples comparison of their profit impact on your unit.
If you're not yet in our user group, the first step is to buy Hoekstra Research Report 3. It is easy to do. No contracts, lawyers, or non-disclosure agreements are needed. Just use the sample invoice in this brochure as a template to prepare a purchase order to buy Report 3, convince your boss to sign it, and E-mail the PO to us today. For $50,000, you will get the report at the speed of light and immediate access to $1,600,000 of scientific information that will help you make your refinery's best-ever catalyst reload decisions in 2022. Don't live for years with inferior results just because you decided to try to do the job without this inexpensive, high quality tool.
George Hoekstra
george.hoekstra@hoekstratrading.com
+1 630 330-8159