Accurate modeling of RIN prices
The Hoekstra IMS RIN price spreadsheet model accurately tracked the D4 RIN price during 2021. The green data points are the daily closing price of the 2021-vintage D4 RIN reported by Banyan Commodities. The black line is the price calculated by the model using weekly data on biodiesel and ultra-low sulfur diesel (ulsd) prices. All other model parameters are held constant.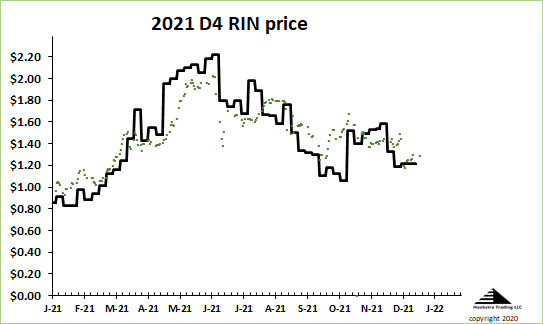 Steady increase in first half
The D4 RIN price rose because of increasing soybean oil and biodiesel prices.
For example, in late April, the soybean oil price increased from $4.97 to $6.17 per gallon and the biodiesel price rose from $5.02 to $6.05 per gallon. This was compensated by only a $0.11 increase in the price of ulsd. Accordingly, in mid-April, the model-calculated RIN price jumped from $1.55 to $2.00 as predicted by economic theory, and the actual RIN price followed.
Steady decrease from June to October
The model-calculated RIN price fell to a low of $1.06 in mid-October as soybean oil fell by $1.30/gal with corresponding reduction in biodiesel price. The actual RIN price followed the same general pattern.
Model explains 72% of variance in RIN price
This linear regression of actual vs. calculated D4 RIN prices says the model explains 72% of the variation in weekly RIN price: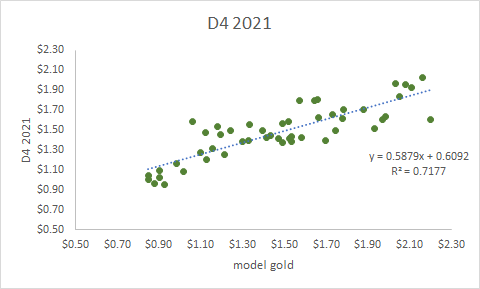 Conclusion
The Hoekstra spreadsheet application of the IMS RIN price model accurately tracked the trends in 2021 RIN price.
This verifies previous conclusions that RIN prices follow fundamental economic and asset pricing theory.
Recommendation
Considering the importance of RIN prices for profitability, every company interested in or affected by RINs should have at least one person with good understanding of RINs price theory and access to daily use of the IMS RINs price model which is based on economic fundamentals and has been proven to accurately model real-world RIN prices. The first step in getting this capability is to get Hoekstra Research Report 10.
Hoekstra Research Report 10
includes our RINs price spreadsheet model that applies the IMS model to calculate RIN prices for any set of inputs, plus a full history of RIN prices, a summary of key events in RINs history, a full explanation of RIN price pass-through theory and related empirical studies, a set of attachments that will make you an expert on RIN pricing, plus a period of unlimited support by phone and E-mail. It is available immediately to anyone at negligible cost. See our offer letter and contact me, or (better!), just send a purchase order today.
For more information
See this overview and this technical description of the IMS RIN price model.
George Hoekstra
george.hoekstra@hoekstratrading.com
+1 630 330-8159