RINs and sulfur credits — the 2013 RIN boil over
The 2013 D6 RIN boil over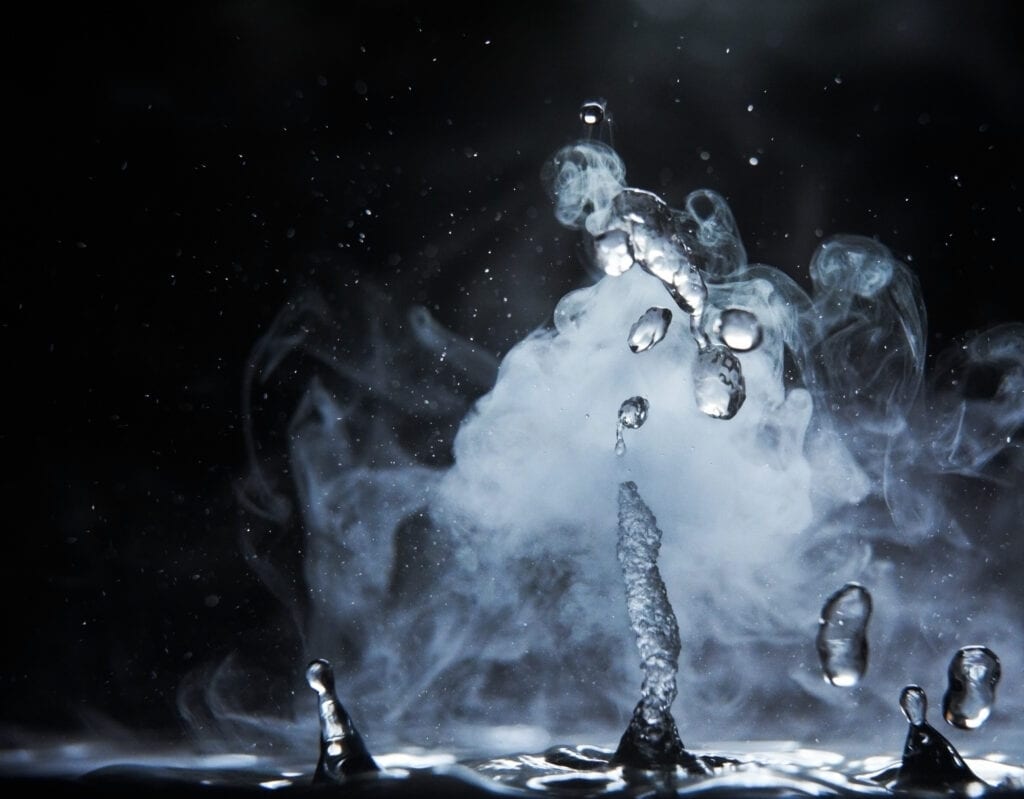 In 2013, the price of D6 RINs skyrocketed sixty-fold in a matter of weeks, triggering a financial crisis that rocked the US refining industry and is still making news today: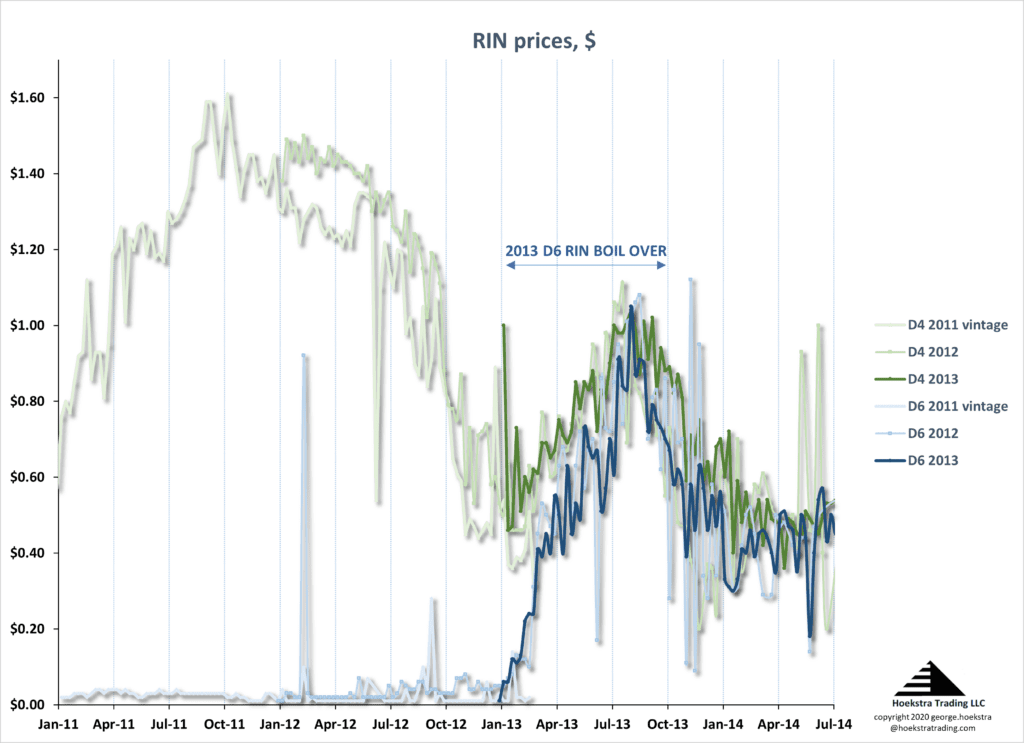 The bright-colored data shows the 2013-vintage D6 RIN (blue) snapping up to a new relationship with the D4 (green) RIN in the first quarter of 2013, after the earlier-vintage D6 and D4 RINs had traded independently and miles apart for years. It was the economic equivalent of a phase transition where, at the boiling point, liquid water converts to steam. In this case, the governing production pathway for D6 RINs converted from the D6 pathway (E10 gasoline) to the D4 pathway (biomass-based diesel).
This price snap was anticipated by those with deep understanding of the RINs market. Published research was available for astute refiners to foresee the boil over and take actions to mitigate their financial risk which added to $billions per year.
The cause of the price snap (the 10% limit on ethanol in E10) was widely anticipated, but the relevant research on financial risks was not accessed by refining decision makers or investment analysts. If you have interest in this topic, please download this recent article from digitalrefining.com.
Financial consequences
Refiners' 2013 earnings conference calls were dominated by discussion of surprise RIN expenses of $10s of millions per month per company. The red data below shows how refining stocks reacted when the D6 price shot up in the first 3 quarters. On this chart of % gain, the D6 data is divided by a factor of 100 to fit on the same chart with stocks: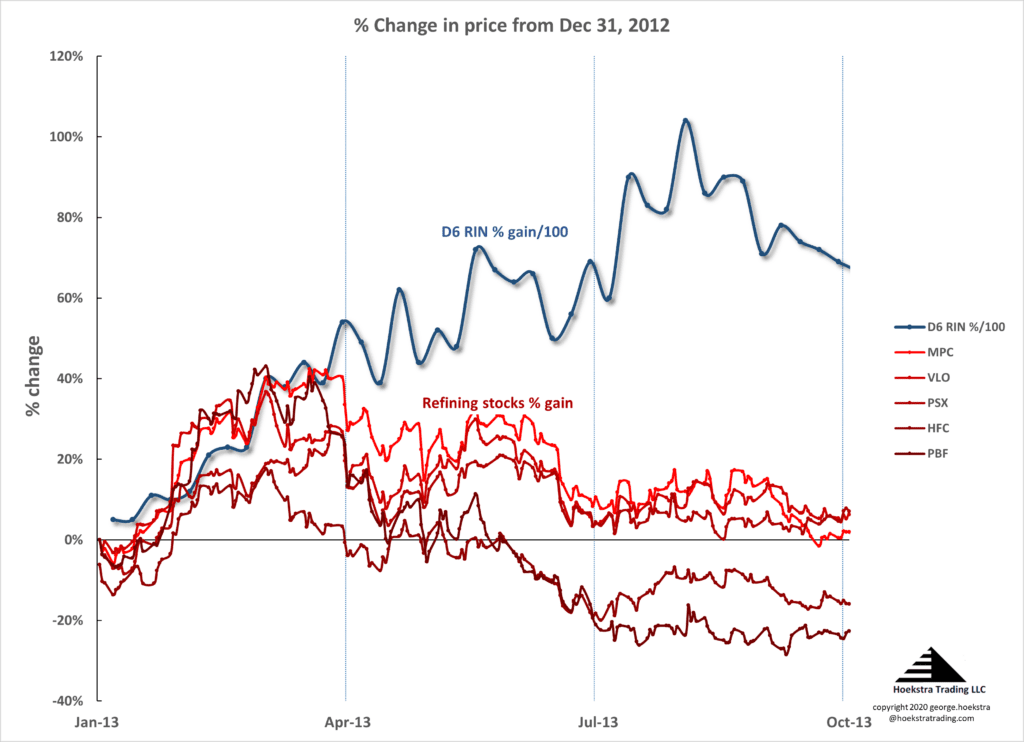 Refiners' RIN expenses are receipts for those who blend biofuels with petroleum base fuels. Renewable Energy Group Inc. was one recipient. They used RINs revenue to help grow their production and profits to the delight of their shareholders: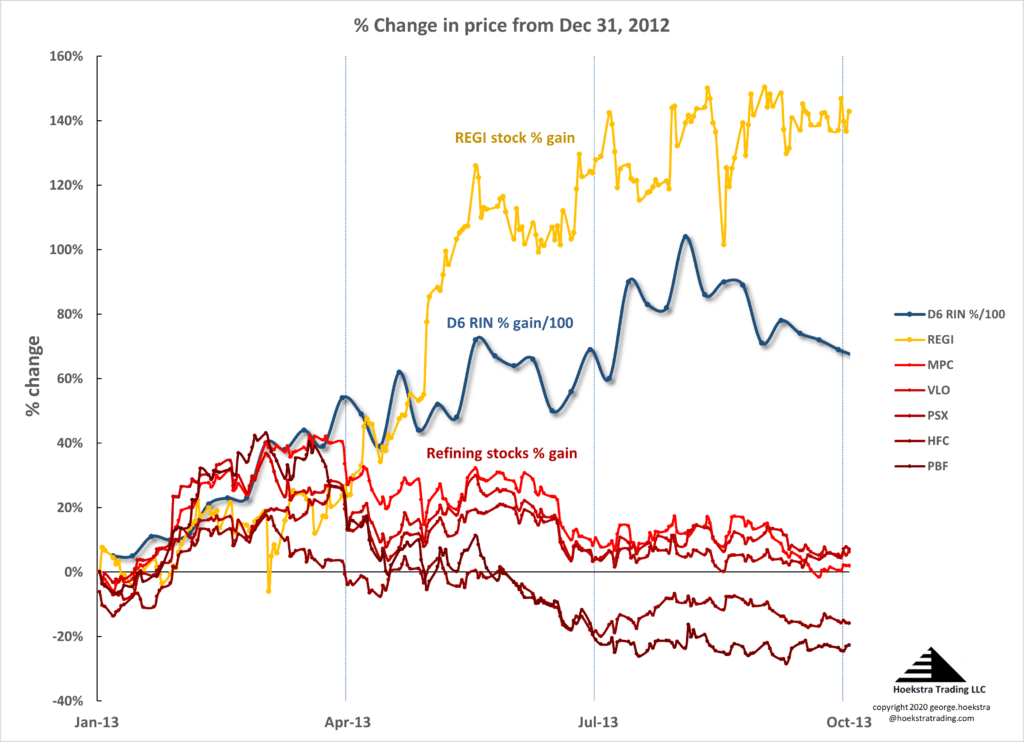 This picture of financial consequences can be further understood by reading 2013 earnings conference call transcripts which are included as attachments to our latest report.
Tier 3 risks
The Tier 3 sulfur credit story is like this RINs story but displaced eight years in time.
Except for a brief awakening in the 3rd quarter of 2019, Tier 3 gasoline has not been on the radar screens of many refining decision makers or financial analysts.
But to shift from 30 to 10 ppm sulfur gasoline, and then make 10 ppm consistently and reliably forever is a big new challenge for North American refiners. Gasoline and octane production pathways will shift in ways that increase costs, impose new constraints, expose hidden bottlenecks, and create financial risks of $billions/year. Opportunities for high-return capital investments will be exposed.
This transition is happening now. The shift from the old to a new state can be anticipated. Astute refiners and financial analysts can make better decisions by acting proactively, before a crisis hits.
Anticipating Tier 3
As always, refining executives are dealing today with important and urgent issues (like safety, reliability, turnarounds, and survival!). The industry is shedding thousands of people and internal planning capabilities are not what they were.
No longer can every refiner have its own proprietary expertise on everything. For those who don't, it's increasingly valuable to use focused, third-party research which is readily available and underutilized by refiners who are accustomed to going it alone.
Hoekstra Trading has a different take on Tier 3 gasoline and sulfur credits. It has been a major focus for us since 2015. Our client group uses shared resources and external networks to dig deep, get critical data, and develop understanding that enables early, well-informed decisions that reduce risk.
None of our Tier 3 research is proprietary. Our multi-client reports are available immediately to anyone at negligible cost (see references 6, 7, 8 in the digitalrefining.com article or contact me any time!).
They enable refining decision makers to check their understanding, ensure they are well-informed on the issue, anticipate foreseeable outcomes, and act before things boil over into a crisis.
George Hoekstra +1 630 330-8159 george.hoekstra@hoekstratrading.com