Stock investors — watch 3rd quarter refining margins
Investors and analysts are confused about how to interpret low refining margins being reported this year.
My theory is the low margins indicate a fundamental weakness in the performance of many US refineries which is inability to make enough on-spec gasoline from crude; and that weakness was triggered by the Tier 3 ultra-low sulfur (10 ppm) gasoline specification that just kicked in this year.
The Tier 3 wet margin chart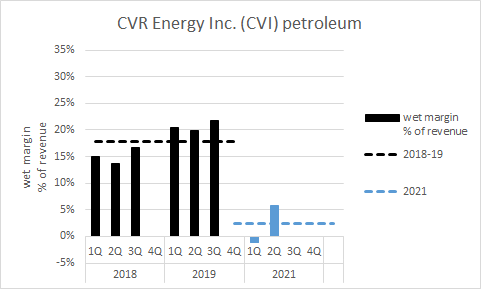 To make a profit, sales revenues must exceed the cost of raw materials. That difference is the most basic starting margin from which all costs, like operating expense, sales expense, and RIN expense must be paid.
The "Tier 3 wet margin chart" shows value of barrels going out of the refinery minus the value of barrels going in, which I call the wet margin, as a percentage of each quarter's revenue. This chart is for CVR Energy Inc.'s Refining business segment. The COVID lock-down year, 2020 is omitted.
The black bars and black dashed line show CVR's wet margin was averaging 19% in 2018-2019, when most refiners were still making Tier 2 gasoline. The blue bars and blue dashed line show the wet margin's been 3% so far in 2021 with Tier 3 now required.
My theory says Tier 3, in 2021, is causing higher raw material input costs to make the same value product slate, compared to Tier 2.
This previous post has raw data showing CVR's revenues have returned to pre-lockdown levels, but their input costs are higher. That post also gives more explanation of wet margin and my Tier 3 theory.
Not all refiners are affected equally by the Tier 3 requirement. Here is the wet margin chart for Valero Energy Corp.'s Refining segment: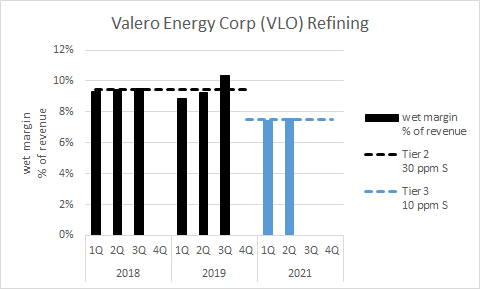 Tomorrow, Valero will report 3rd quarter numbers and this chart will be updated.
Hoekstra Trading has this chart for North American refiners and will be updating them as quarterly earnings come out. It tells a lot, in one chart, about refiners' competitive positions in the Tier 3 world, which is the world of the future.
Hoekstra Research Report 8
There are ways refiners can mitigate competitive disadvantages and create profit new profit opportunities in the Tier 3 world. In a 3-year, $1 million research project, our client group gathered new data, developed new methods and new tools to help refiners avoid hidden pitfalls and improve profitability of Tier 3 gasoline. All our data and tools are available to anyone for immediate application at negligible cost. All refiners affected by Tier 3 should have it. Just see this offer letter and join our client group by sending a purchase order today: Hoekstra-Trading-Offer-letter-Research-Report-8-refiners-under 1 million barrels/day