US retail octane value hits new high
Last week, the US average retail octane value (premium – regular gasoline price differential) hit a new high of 71.4 cents/gallon.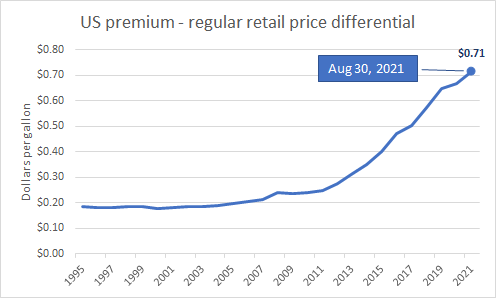 This is the difference in pump price between premium and regular gasoline. If you fill your tank with premium today, you will pay, on average, 71.4 cents/gallon more than if you use regular.
Record high octane value is not caused by hurricanes or winter storms or crippled pipelines or driver shortages. Those things increase gasoline price but not octane differential.
Why is octane value at a record high?
The new Tier 3 gasoline sulfur specification is causing octane production bottlenecks in US refineries. This sulfur specification just kicked in this year. With Tier 3, all gasoline delivered to the US market must now average 10 ppm sulfur or less. When refiners treat their gasoline streams to reduce sulfur to 10 ppm, that treatment destroys 6 octane units which lowers octane supply and increases octane price.
It is like converting 93 octane premium gasoline to 87 octane regular, destroying octane with street value of 71.4 cents per gallon or, in units used in refining economics, $30/barrel.
What's the impact on refining profitability?
Record high octane differentials should be good news for refining stock investors. But several large North American refiners are posting record low margins of only $4/barrel despite high gasoline price and high octane value. Their explanations for such low margins are weak, and financial analysts seem equally confused.
I say it's Tier 3. US refineries are destroying octane with street value of $30/barrel, which is enough to crush refining margin and profitability.
There are ways to fix Tier 3 impacts on refining profitability. Some are quick and easy, some require only engineering efforts, others require capital investment and time, but all are easily done by capable refiners.
Some astute refiners correctly anticipated the Tier 3 impacts on octane and took steps to prepare in advance. But many did not. I think their C-Suites were led to believe Tier 3 would be easy to achieve and would not be a factor for profitability. They should take a fresh look at Tier 3 strategy.
Hoekstra Research Report 8
In a 3-year, $1 million research project, our client group developed new strategies, methods, and tools to help refiners avoid hidden pitfalls and improve profitability of Tier 3 gasoline. All that is available to anyone immediately at negligible cost. Just see this offer letter and join our client group by sending a purchase order today: Hoekstra-Trading-Offer-letter-Research-Report-8-refiners-under 1 million barrels/day
.